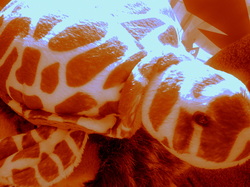 Recently, a close friend of mine kept telling me I was a turtle in my
past life. I was confused and asked for the reason. (Once, he told me
I was an Indian goddess. Now, I was a turtle!?) Turtle is symbol of
uniting heaven and earth. The Chinese, Indians have a legend that "the
world is supported by four elephants standing on a giant turtle." In
Hindu religion, the turtle is considered to be the second incarnation
of the powerful god Vishnu. Aesop's "The Tortoise and The Hare", demonstrates the tortoise's (and turtle's) virtues of being "sure and
steady". Turtle also represents: love & protection, healing,
knowledge, self contained, creative source, mother earth, informed
decisions, planning and adaptability. Was I really a turtle? Do I have
turtle-like qualities? What was that mean to me?
My friend didn't give
me a very satisfying answer. He just looked into my eyes and insisted:
"I see it….you were a turtle." Funny enough, isn't it? However, he kept saying it couple times. It just drew my attention to think about
what it was like to be a turtle.
My friend doesn't have any psychic ability or supernatural power. He
is a logical, yet also very intuitive person. No matter whether he r
eally saw my past or not, he drew my attention to research about this
ancient animal. And yet, I always believe in him and his intuition. I
admire people who listen to their inner voice, trust their feeling and
follow the direction leading them to a better place. My friend is one
of them; he listens to his true feelings to make 'heart' decisions in most of the time. In the Power of Myth, Joseph Campbell said: "(My
general formula for my students is) follow your bliss and don't be
afraid, and doors will open where you didn't know they were going to
be." We all intuitively know how to find our door no matter using a
baby turtle step or a quantum leap. We just need to trust, relax,
listen and follow.

I was curious about how it was like being a turtle. The first thing I
can think of the character of grand master Oogway in the movie
animation - Kung Fu Panda 1. (Oogway is an English translation of
'turtle' in Cantonese) From the description of Wikipedia - The grand
master Oogway was considered to be a sage. He also was reckoned as a
god in the art of Kung Fu. He also encouraged Monkey to use compassion
toward others than playing tricks to everyone. When he chose Po, the panda as the Dragon Warrior and convinced master Shifu to train him,he said: My friend, the panda will never fulfill his destiny, nor you
yours until you let go of illusion of control. The most recurring
proverb that Oogway recites is "There are no accidents."

Love it! I love this movie a lot. (And yet, the Kung Fu Panda 2 made
me cry.) I am so touched by the meaning behind the story - to keep
dreaming of something we are passionate with; to believe in ourselves
without a doubt or fear; to see a person's beauty from his/her action;
to follow our bliss with diligence. Wait, so, was I a turtle? I
think I find the answer from one the dialogues between Po and Oogway:
Po
:
Maybe I should just quit and go back to making noodles.
Oogway: Quit, don't quit? Noodles, don't noodles? You are too concerned about what was and what will be. There is a saying: yesterday is history, tomorrow is a mystery, but today is a gift. That is why it is called the "present."
Oogway, don't Oogway? I just know I am a gift of myself and people around me. I am proud to be who I am in this present time and space.
Love and light,
Mandy