Happy Fall! The weather in fall is the best time for a runner. I fell in love with autumn because I started running before the end of May. I never thought running would be on my list of favorite activities. It hadn't crossed my mind until few months ago (probably because often I heard that running puts lot of stress to knees and potentially can damage body especially the extreme long distance running.). Running is one of the best cardio exercises – no fee, no special equipment and no schedule is requested. It is a high impact exercise which helps to build strong bones and connective tissue and to increase the strength of heart and lung. It is convenient and economic enough for me to give it a try even though I may get the 'damage'. I ran with both great caution and curiosity at the beginning. The more I run, the more I found out the 'secrets' of running. (I will reveal more 'secrets' of running in my future blog. Please stay tuned!)

The health benefits of running are nothing short of amazing, physically, mentally, emotionally and spiritually. It is like a 'moving meditation'. Our mind and body are constantly communicating and connecting, even unconsciously. The connection between mind and body creates balance, flow, strength, ease and flexibility to our thoughts and actions. The constant change of our internal state affects our physical performance even like our daily activities – walking, cleaning, grocery shopping, reading or sitting. How long I can run depends on how quiet my mind is. One day, I can go for mile after mile without any hesitation; the other day, I have to take a break in between to finish the routine. When my mind stays focused on the present moment, my body expresses the effortless strength with freedom and control.

Before I was too proud of my little success of running, my friend, Alan challenged me to run 6 miles in Central Park. I hesitated and answered back: "Maybe." Alan said: "If you believe it, you can do it." (It is true. Thanks, Alan!) He reminded me to believe myself and the impossible possibility that beyond my imagination.

Every challenge is a chance to expand our reality, to grow and explore a new way of thinking and living. My hesitation was just a fear of failure. I realized I have nothing to lose to take on challenge, but a belief to gain about my own strength and capability to success in many different ways of my life. I am ready, bring it on!

Love and light,
Mandy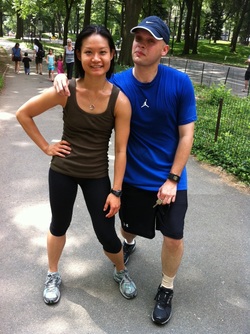 My first Central Park run with my friend, Alan in May 2011.