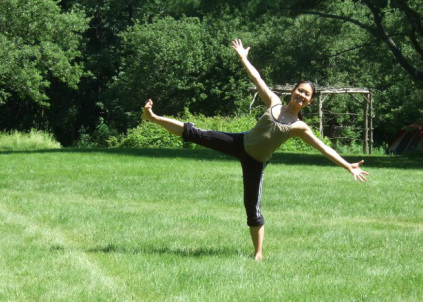 I am so happy to be back to Breathing Blog! It has been a while since the last post. In the past six months, I have shifted my focus to improving my English and somatic teaching skills. In addition, I have been selected to attend the American Ballet Theater's National Training Curriculum in August. (I have often heard, "When student is ready, teacher will appear." I am definitely ready to learn.)
Recently, I met a new friend, Mollie Player, who is a freelance writer living in Seattle, Washington. One day, Mollie left a comment on one of my blog posts, "An Unconditional Love". She loved the positivity and asked if I have a story to share on her blog about how positive thinking brought good things to me. I visited her blog immediately. I loved it! Her blog "Stories and Truth" is full of real life examples of how positive thinking, (prayer, law of attraction, etc), has affected people's lives for the better.
Today, Mollie shares with us an excerpt from her book, "What I Learned From Jane." This portion takes place in the days following the death of her child, Baby Jane, in which she tries to find meaning in the experience.
That night was hard, but Friday night, two nights later, was even harder. I could not sleep and as I lay in bed I thought about all of the things I didn't do that I should have done.

I should have held her more, I thought. I should have stayed with her at the hospital every night.

"It was too short," I kept saying to David as I cried. "It was too short."

The following Sunday, I went to church for the first time in a long time. It was a non-traditional church where people believe things like karma and reincarnation—and Jesus, too.

I liked it a lot.

During the service, I cried a little. Then, after the service, I prayed with someone and cried a lot more. The minister saw me and came over to talk. I told her what happened and said through my tears, "I want to know where she is."

"Why do you ask that?" she said. "Why is it so important for you to know?"

"I don't want to believe she's in heaven," I said. "I don't think she is. I think she is still with me."

The minister said that she believed I could be right; Jane could still be here.

"I don't believe in heaven," she said. "I believe that those that pass on are still with us, but they're on a different level, one that we can't see right now."

"Can I talk to her, then?" I asked.

"Yes," she said. "You can talk to her, even out loud, and I think she will hear you."

That helped . . .

. . . And that, my friend, is the story of what I learned from Jane.

Now, I still don't have a religion. I probably never will again. But I have something else, and it is, as I said before, something big.

Something much bigger than any one thing can be on its own.

I feel more now. I love people more. But more important than all that: I have, once again, learned to expect miracles.

I don't know what the miracles will be, of course. Right now, I don't even have a guess. But I am going somewhere that I wasn't going before, and my life is larger than it used to be: larger than my own happiness and larger, even, than the happiness I can bring to others.

It is as large as my soul.

Of course, I am not always full of faith, even now.

The truth is, I only have this kind of faith part of the time. The rest of the time, there is nothing—only emptiness, and when I see Jane's picture, I just see what could have been, not what is, still, somewhere, wanting me and waiting for me to be with her again.

The truth is, most of the time I have very little faith or none at all.
But I want more.
Maybe someday I will have it.
Maybe that will be my miracle.

Hope you liked my sharing. To know more about Mollie and other true stories about how law of attraction and spirituality changes people's lives, visit her blog:
www.storiesandtruth.com
See you soon in the next post.
Love and light,
Mandy