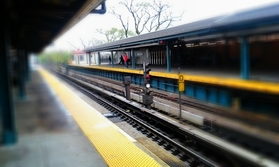 Fall is a romantic season for some people. For me, it is a season of reflection which inspires me to organize my thoughts. Last night, I went through the things that I wrote in the past year. It reminded me the relationship with my father, my home in Hong Kong and the life that I have created in New York.

After visiting my family in August 2012, I wrote: In my family, we never express love verbally. Instead, we cook a big, delicious meal to show the care. Culturally, the more we care, the more we cook. "Have you eaten well and dressed warm?" - it is a typical question that Chinese parents ask their children. As a daughter of a 75 years old man, I have been asked the same question every time when I was on the phone with my father. When the question came up, I gave the same robotic answer: "Yes." Gradually, I started to call my father less. I was aware of my avoidance.

It has been 12 years since I moved to New York. Without family around for these years, I have learned a lot about who I am through the change of life. I recognized how lucky I was born in this 20th century. Comparing with the old time of my father, I am more educated, living in a better environment and doing what I am passionate about. My mind is free and creative. My value and option are shaped by my own experiences and the world around me. I love my life. But, my father has a different idea of what my life should be in his traditional mind. He thought that woman in my age should be married and have children. I felt pressure to fulfill his idea.

Two weeks ago, I woke up early on a Wednesday morning going to JFK for a 10:05am flight to Hong Kong. After all the repetitive security checks, I was on the plane getting ready to take off. However, my mind was running busily with worries and excitements. Mark, my new boyfriend, will be in Hong Kong the same time as me. I felt right to introduce him to my family, but I was afraid it may give a wrong idea to my father. 16 hours later, I was on the other side of the world. Right away, I found a comfort to be surrounded by a crowd of people speaking in Cantonese. I was definitely home.

Homemade chicken soup, steamed fish, sweet and sour sauce prawns, Cantonese steamed chicken, stir fry Chinese broccoli – those were the dishes that my father cooked the first night I went home for dinner. They were all my favorite dishes. My father was happy to see my big appetite. He saw the opportunity and asked about my love relationship when I had my forth bowl of soup. This time, I could not avoid the question. Few days later, Mark and I had dinner with my father and my step-mother. Mark absolutely enjoyed my father's fine cooking. My father was very pleased. He kept putting food to Mark's bowl. The night went well. It was better than I thought. I felt relieved. Later on, I shared with Mark about the expectation of my father on me and how he still saw me like a child. He reminded me that my father is a 75 years old man who does not have too much time left in his life time. And yet, he has been holding on to his traditional thoughts for many decades. "What do you expect him to change?" Mark said. He was right.

I always think that it is an impossible task to deal with family member who has opinions and expectations about what my live should be. In certain degree, it is still very true. However, I realized that I am the one who creates the "impossible" thought. The impossibility is not about what he (she) thinks, but it is about how my mind responds to the thoughts. I noticed that I am the one who also expected my father to understand me - the change that I have throughout these years. In his mind, I am still his little girl. A friend of mine in Hong Kong asked me how I felt returning home. I told her that it was another rewarding trip to be back to my root. It reminded me how much I have changed and yet, how much I am still the same.

After two weeks being in Hong Kong, I was back to the airport on the early Thursday morning. The flight took off at 9:20am. I was very relaxed and slept a lot on the plane. The flight arrived at JFK was about 1am in Hong Kong time. I took the A train and found my way back to my apartment. There were nothing change in my room except it needed to be dusted. The next day morning, I went to a dance rehearsal right away. I caught up the routine easily.

It has been three weeks since I came back from Hong Kong. I called my father in Hong Kong this morning. He picked up the phone and sounded surprised that it was me. I guess he was not used to receive my call couple times this week. He thought I have something special to tell him. I said: "Nothing special. Just checking in" and then, I asked the date of his next doctor appointment. "Sep 25th" he answered. I told him that I will call again after his doctor appointment. Before I hung up the phone, my father said: "When you have time, remember to make some soup for yourself." I answered: "Okay." I said to myself that I will make some soup. However, it will never taste as good as my father does.