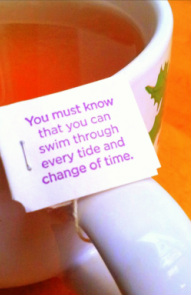 How do you keep your center when life is falling apart? I didn't exactly know until mine was falling apart. It has been few months since I was hit hard by reality - financial pressure, career setback, the decline of my father's health, the death of someone I knew and an identity crisis. As my worry and fear hit me like a hurricane and pulled me apart, I lost my inner stability. I couldn't ground myself emotionally until one day when I gave a balance exercise to my client, Dave. I observed as he stabilized himself by tensing up his muscles and locking his joints. The harder he tried, the more he wobbled and failed his task. From the fitness point of view, core strength refers to the strength of the abdominal muscles, back muscles and the muscles inside or around the pelvic area. However, for Dave, he didn't need to get those muscles tougher and stronger. He lacked the connection between core strength and his mind.


Core means the central, innermost, or most essential part of anything. Strength means quality of being able to access power and maintain stability. Beside of being strong and centered, core strength in the mind is also about being ready. It is the readiness to take action when time is right, but also to let go when things no longer serve our well being. With the core strength in both body and mind, we are able to shift our center with us in anywhere and anytime without fixating in an external situation. At that moment, I realized I was just one step away from the calm eye of my hurricane mind. Instead of letting unpleasant thoughts fall on to me, I let them to fall around me.

I am safe. I am peaceful. I am ready to fall and rise.

5 things to keep centering your mind:
1) Focus on the good, rather than the bad
My family and friends love me.
My love relationship is getting stronger each day.
My clients appreciate my help. etc.

2) Magnify a little sweetness into blessing
My 7 year old student came to me after the class. She gave me a hug and said, "Thank you, Ms Mandy. Thank you for the wonderful class." Awww….she made my day and reminded me, "I am changing the world". (Yes, I need to feed my ego sometimes...humbly.)

3) Make an appreciation list
I appreciate the tea that I am drinking to slow me down.
I appreciate my good health.
I appreciate my lungs take care of me breathing in and breathing out without complaint. etc.

4) Be mindful - respond, rather than react with negative thoughts
When you feel negative emotion, write it down in a paper (journal) and put the paper in a jar or somewhere so it cannot 'hurt' you or others. Yes, you can do it...just need some practice. I recommend my favorite book Zen Mind, Beginner's Mind by Shunryu Suzuki. You will get some insight on how to tame your monkey mind and respond to your thoughts.

5) Exercise!
Exercise can boost your oxytocin level which is the "happy" hormone. Just do anything physical to keep your body moving - walk your dog, clean your apartment, help your neighbor, dance, swimming, Yoga, Pilates etc. The happier your body, the clearer your mind.